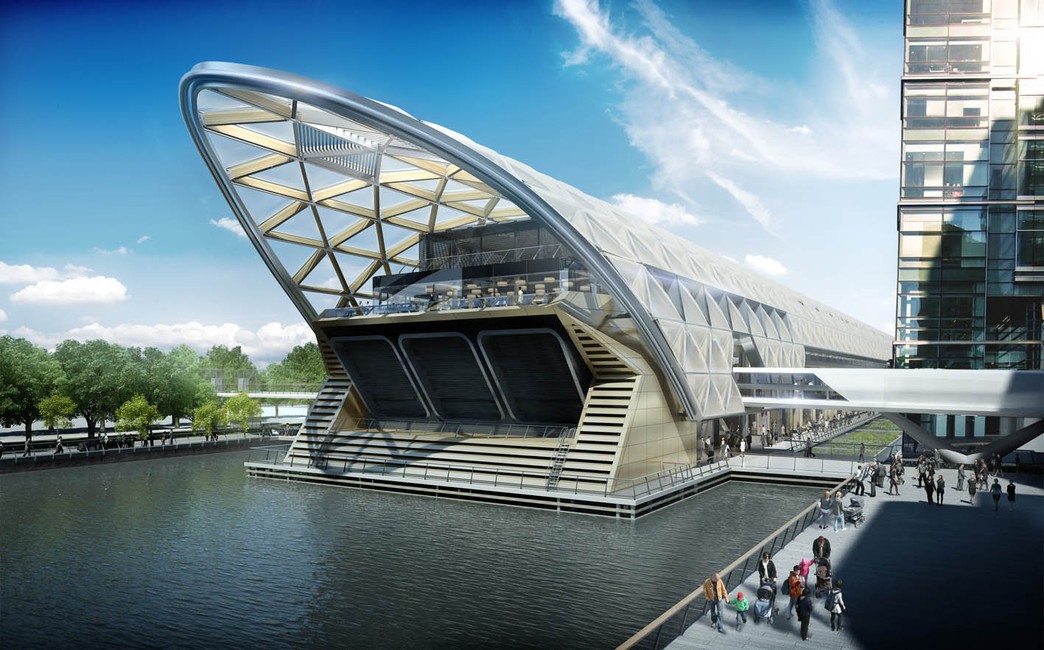 Elizabeth line property guide
C
anary Wharf has been a long slow burn ever since the late 1980s when Margaret Thatcher decided to transform acres of derelict dockland in east London into London's second financial centre.
Those early days were full of mishaps and disappointments — the cost of the Docklands Light Railway spiralled, and critics pointed out that once its offices cleared out the area became a ghost town.
But since 2012 things have changed, radically. No longer simply a place for bankers to earn a crust, Canary Wharf has become a modern destination in its own right.
You can relax in the Crossrail Roof Garden or Jubilee Park, shop at Crossrail Place or a series of underground malls, admire the boats at South Dock, learn to sail at the Docklands Sailing and Watersports Centre at Millwall Outer Dock, eat at the kind of restaurants where an expense account is a help — notably Roka (Canada Square), Ippudo London (Crossrail Place) or Hawksmoor (Water Street) — or stroll over to West India Quay where Grade I listed waterfront warehouses have been redeveloped with bars and restaurants.
The Canary Wharf Group puts on scores of cultural events each year, like the Winter Lights Festival and public art displays.
"When I tell people I live in Canary Wharf the majority of people say: "Oh it's so boring, there is no character"," said Kevin Tang, 51, who has lived in the area since 2000 with his husband Geffrye Parsons, 56.
"I think people should come and look at it now. It has actually got lots of character, because of the architecture. You feel very metropolitan when you live here, it is what modern London is all about. And it is heaving at the weekends with people coming to eat and drink and shop."
The resident population of Canary Wharf has spiralled since the start of the 2000s as new towers have flown up. In 2011 there were 12,500 people living in the Canary Wharf ward, according to Tower Hamlets Council. By 2020 it had jumped to 19,000 and this is projected to leap to around 40,000 once all the new homes in the area are completed.
New landmarks on the skyline include Herzog & De Meuron's One Park Drive, a 58 storey giant; prices currently start at £840,000 for a one bedroom flat.
There has also been heavy investment in flats built to rent. The largest to date is the Newfoundland tower, which was completed last summer. Its 636 flats cost from £2,383pcm for a one bedroom flat, and £3,335 for a two bedroom flat.
Beyond the official Canary Wharf estate new towers are being built overlooking South Dock, technically in the Isle of Dogs The 53 storey Amory Tower (formerly known as The Madison) and the 75 storey Landmark Pinnacle — where studio flats start at £559,000 — both completed last year.
Kevin, a property developer, and Geffrye, who recently took early retirement from his career in finance, reserved a flat in One Park Drive back in 2018 — the one-bedroom property, with phenomenal view from one of the highest floors, cost just over £1 million.
In the interim they rented a flat at 10, George Street, a purpose-built rental block, in 2020 before moving to their home at the start of this year.
They chose Canary Wharf partly because they were excited by the prospect of owning a home in Herzog & De Meuron's first UK residential project. They travel frequently so living in a safe, lock up and leave home was another pull, along with the direct links to Heathrow that come with Crossrail's long-awaited opening.
Their longer term plan is to move to Canada, and they plan to use the flat as a pied-à-terre, with the option of renting it out while they are not in the UK.
James Hyman, head of residential at Cluttons estate agents, estimates that around 70 per cent of Canary Wharf's flats are bought by investors able to let a two-bedroom flat for around £2,200 per week.
Would-be owner occupiers can get a bit more for their money by opting for a resale flat rather than something brand new — around £750,000 would buy a two-bedroom apartment.
Hyman thinks the biggest challenge Canary Wharf's market has faced over the past couple of years has not been the pandemic and absence of overseas buyers and local office workers.
It has been the building safety crisis and the subsequent demands for buildings to pass fire safety checks. "So many of those blocks still don't have the right documentation to satisfy a lender and that has slightly suppressed the market," said Hyman.
As a result, prices have inched up by just three per cent in the past two years.
Hyman agrees with Kevin that the appeal of Canary Wharf is its uniqueness. "It is a very sophisticated part of London if you want modern, purpose built living," he said. "It is owned by a Singapore-based business, it is maintained to a Singapore standard and is probably the closest environment to utopia that exists.
"And Canary Wharf has changed massively over the past 10 years. It is buzzy at the weekend. The retail is West End standard, there are restaurants and bars. A lot of people who live in Canary Wharf don't work there. Historically you only lived there if you also worked there."
The future
The Canary Wharf Group has started work on the five million sq ft Wood Wharf development, which will include a hub for tech companies plus more than 4,000 new homes to rent or buy. The wharf will also include lots of new restaurants like street food sensation Mercato Metropolitano, due to open "imminently" within 10 George Street.
And at North Quay, there are plans to create a life sciences hub, several apartment buildings, a casino, nightclub, and skatepark.
To counteract all this steel, grass, and concrete, it was announced earlier this year that Canary Wharf chiefs are working with the Eden Project on plans to create a "green spine" through the docklands, featuring parks and gardens, boardwalks, bridges, and floating pontoons through the centre of the neighbourhood.